We provide "WOW" experience to all customers
Access to destinations,
and your
SUCCESS
Not only transfer, we can help with making an appointment, scheduling management. Business, VIPs, Sightseeing & ERFS Package.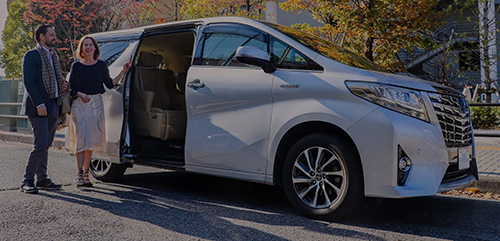 We provide a "WOW!" experience to all of our valued customers
Access to destinations,
and your
SUCCESS
Not only limited to transportation, we can help with making appointments and
scheduling management. We offer business, VIPs, sightseeing & ERFS Package.
Book Your Airport Taxi Service with Hire Taxi Japan
Tokyo
Kansai
Nagoya
Fukuoka
Hokkaido
Tokyo
Kansai
Nagoya
Fukuoka
Hokkaido
There are various reasons to choose Hire Taxi Japan over our competitors.
Some are mentioned below

English Speaking Drivers

Easy Booking
No Hidden Costs

Licensed Service
Competitive Rates

Over 2500 Bookings
Hire Taxi Japan provides a "WOW!" experience to all of our valued customers.
Travel Easy & Fast With Us
Hire Taxi Japan is one of the best options to travel in and around Tokyo.
Our services include…
See What International Tourists say about Hire Taxi Japan
Nice spacious cab, fast rides, good wifi, English speaking drivers. Great choice for corporate travel in Tokyo.
Michael Alston
2022-07-31
Great service and reliable. My flight arrived 2 hours late. I was worried that the driver had left for another customer. To my amazement, the driver was waiting for me and my ageing mom. Taking other transportation with my mom was not an option. So, thank you for allowing me not to make the wrong transportation decision. If you are looking for dependable and reliable transportation, make this is your go-to company.
Taxi service is very good With affordable price Good English speaking skills Wi-Fi connectivity inside car Recommend to use when you travel to japan
Miss Evergreen
2022-06-28
Absolutely great service! Very kind and friendly.
Humans of Japan
2022-05-31
One of the best taxi services in Tokyo
Very convenient way of travelling
Anastasia Karlova
2022-01-11
Very nice service, polite people and comfortable cars. My ride from Narita airport to Setagaya-ku in Tokyo took 50 minutes which is an amazingly fast ride and i was so glad that used this company for my transportation! Thank you so much for making it so easy to get home!